About PearlDamour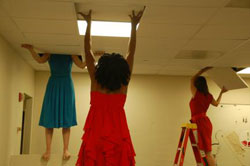 PearlDamour (Katie Pearl and Lisa D'Amour) has a 17-year history of creating performance work for theaters and non-traditional sites.  Ranging from intimate (15 people in a Manhattan basement) to large-scale (a 24-hour performance at Stone Arch Bridge in Minneapolis for over 1,000), PearlDamour is known for mysterious and often interactive work that combines theater with installation and is attentive to the performer-audience relationship. Along with MILTON, they are currently touring How to Build a Forest, an eight-hour performance installation in which PearlDamour, visual artist Shawn Hall, and a team of artists slowly build and then swiftly tear down a simulated forest. How to Build a Forest premiered at The Kitchen in New York City and most recently was presented in New Orleans at the Contemporary Art Center.
PearlDamour's process is deeply collaborative and continually evolving, with the two switching fluidly between writer/director/performer for each project.  Over the course of their work, they have collaborated with many different artists, including visual artists Krista Kelley Walsh, Charles Goldman, Kurt Mueller and Shawn Hall, choreographer Emily Johnson and composers Sxip Shirey, Joel Pickard, Brendan Connelly and Tom McDermott.
Their work has been presented at venues such as Here Arts Center, PS122, the Kitchen and the Whitney Museum of Art (New York), Walker Arts Center and Intermedia Arts (Minneapolis), FuseBox Festival (Austin) , Contemporary Arts Center and Artspot Productions (New Orleans), Duke University (Raleigh) and Brown University (Providence).
In 2003, they received an OBIE for Nita & Zita, created with Kathy Randels of ArtSpot Productions. Commissions include Terrible Things (PS 122), LIMO (Whitney Museum's Performance on 42nd Series) and Bird Eye Blue Print (Brookfield Properties @ World Financial Center).  PearlDamour are 4-time recipients of the MAP Fund grant, and are 2009 recipients of a Creative Capital Award for the research, development and production of their eight-hour performance installation, How to Build a Forest. In 2011, PearlDamour received the Lee Reynolds Award from the League of Professional Theater Women, given annually to a woman or women whose work in the medium of theatre has helped to illuminate the possibilities for social, cultural, or political change.
PearlDamour's large scale site specific spectacle Lost in the Meadow, a performance for the meadow at Longwood Gardens in Kennett Square, PA made with designer Mimi Lien, premiered in September 2015. New projects will be in develoment throughout 2016/17.
Visit our company website at pearldamour.com.